About us
About J. B. Olsen A/S
J. B. Olsen A/S is a fully privately owned Danish company. For more than 60 years, we have been producing Welding Helmets, Shields and Fresh Air Supplied Respirators for shipyards and industrial enterprises at home and abroad.
Our products are mainly marketed through a wide net of distributors. In Denmark alone, we have about 250 distributors and about 100 distributors covering most of Europe.
The company is located in Skævinge, approx 40 kilometers northwest of Copenhagen, where we have approx 2000 m2 warehouse and production halls with associated offices.
The story of J. B. Olsen A/S dates back to 1958 in Rødovre, Denmark where Jens Olsen was the owner of a blacksmith company that was building stainless steel tanks for the medical industry.
Jens Olsen had of course a need of using welding helmets and gradually he started to make prototypes of his own as he found that the welding helmets available on the market at the time could not meet his requirements.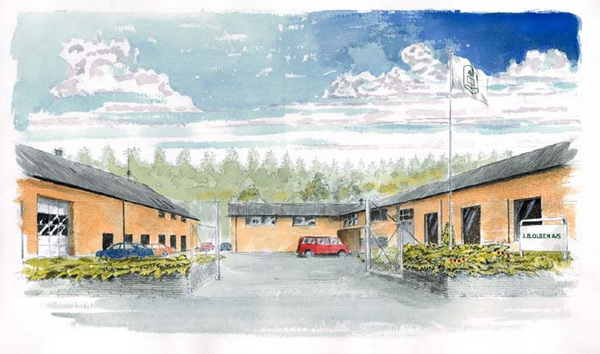 Customers and suppliers in the steel industry visiting the company took an interest in the welding helmets made by Jens Olsen, so he began to realize a door-to-door sale along with his blacksmith company operation. In time the demand for his welding helmets grew to the extend of providing a foundation for an actual production.
In cooperation with his eldest son, Bjarne Olsen, who was also qualified as a blacksmith, though without a great deal of interest in that occupation, Jens Olsen met the challenge and laid the foundation stone of J. B. Olsen A/S. Jens Olsen and Bjarne Olsen have thus for many years as the only operator in this field in Denmark, designed, developed and manufactured a great variety of welding helmet types. Above all the glass fibre reinforced welding helmets stand out as the most unique product - in fact the only products of its kind in the world.
Today in addition to welding helmets J. B. Olsen A/S manufactures respirators, both compressed air supplied and motorized. 95% of our production is run on own plastic moulding machines as well as mounting and storage are also handled at the factory in Denmark. Futher items of our range of products include naturally accompanying articles such as safety helmets, welding lenses, welding hoods, industrial magnets etc.
J. B. Olsen A/S is still a family company owned and run by Bjarne Olsen´s son and daughter. Leif B. Olsen is in charge of the production and product development and Lone Savage is in charge of sales, distribution, finance and administration.